Our Heritage, Your Say: Report on the Consultation with Young People on the Future of Heritage in Ireland
Published on 01st April 2019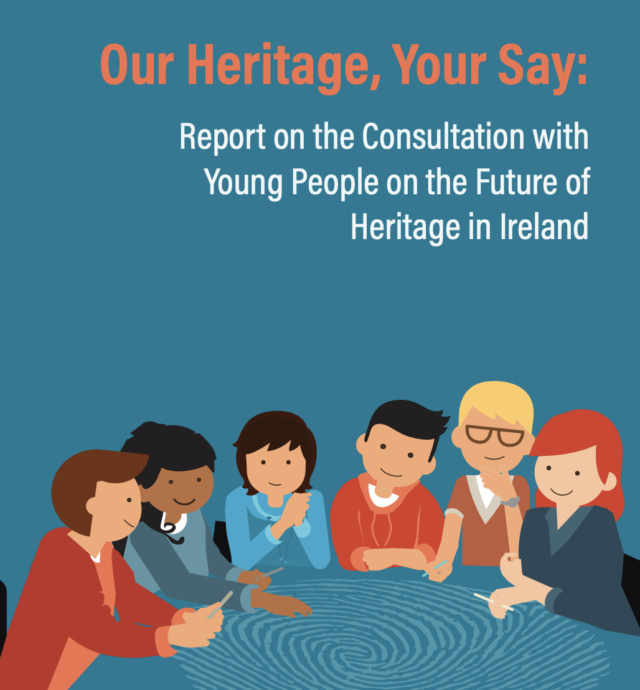 Author: Louise Forde, Deirdre Kelleher and Ursula Kilkelly.
Publisher: The Heritage Council
Date: 2018
Geographic Coverage: Ireland
Type of Resource: Report
Sector/setting: Government
Vulnerable groups: Children, Young People
Developed with children and young people? Yes
Type of participation: Consultations With Children
Availability: Open Access
Keywords: Child, Participation, Communication, Young People, Heritage, Ethics
As the Heritage Council formulated its strategic plan for the period 2018-2022, consideration was given to key questions including: how the Council can reach a wider audience; how heritage can help with the difficulties in Irish society and how technology can be used to promote understanding of and appreciation of heritage. This strategic planning process also considered what its three main priorities should be over the next five years. As part of this process, the Council sought to understand which aspects of heritage appeal most to young people; how young people could be encouraged to engage more with their heritage and how best to communicate with young people about their heritage.
As part of the development of the strategic plan, therefore, the Heritage Council sought the views and opinions of young people on these questions. A consultation was arranged by the Heritage Council in liaison with the Department of Children and Youth Affairs (DCYA). This in turn reflects the commitment of the DCYA to value and prioritise the participation of children and young people and which is now embedded in Irish policy, through the adoption of 'Brighter Outcomes, Better Futures', and 'The National Strategy on Children and Young People's Participation in Decision-Making 2015-2020'
To ensure that the views of young people were accurately recorded and presented to the Board of the Heritage Council, the Child Law Clinic at University College Cork was commissioned to document the consultation process and to collate the views gathered from young people. The format of the consultation, the topics to be discussed and the questions to be asked were developed and agreed between DCYA and the Heritage Council. Ethical approval for the observation of the consultation process and the production of the report was granted by the Social Research Ethics Committee at University College Cork.