LGBTI+ National Youth Strategy 2018-2020: Consultations Report
Published in 24th of October 2022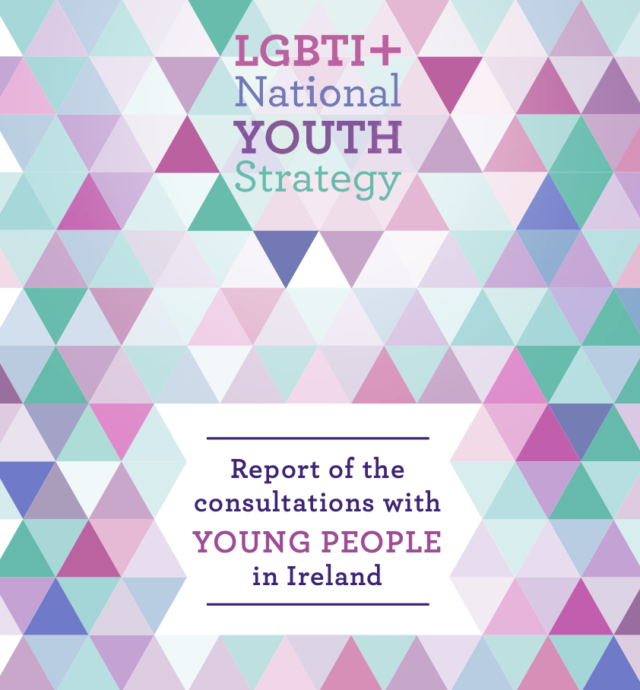 Authors: Deirdre Fullerton and Sheena McGrellis (Insights Health and Social Research); Ian Power and Oisin McKenna (Spunout.ie); Sandra Velthuis (Whitebarn Consulting)
Publisher: Department of Children and Youth Affairs
Date: 2022
Geographic Coverage: Ireland
Type of Resource: Report
Sector/setting: Government
Vulnerable groups: Children, Young People
Developed with children and young people? Yes
Type of participation: Consultations With Children
Availability: Open Access
Keywords: Child, Young People, LGBTI+, Gender
This Report represents a big step forward towards delivering the world's first Lesbian Gay Bisexual Transgender Intersex+ (LGBTI+) National Youth Strategy The findings presented here are groundbreaking, and represent the views of 4,000 young people in every part of the country. These are the voices central to this strategy, the important voices, and the voices that must be listened to.
The results in this report represent the ideas and aspirations of young LGBTI+ people and their allies expressed in their own communities, at special gatherings and online. We asked what is positive about being a young LGBTI+ person in Ireland today, what issues do they face, and what changes they would like to see. The questions were kept as open as possible and non-prescriptive. Because of that approach, this report captures a broad spectrum of attitudes, perspectives and ideas.
The consultations reached a total of 3,882 young people from across Ireland representing a cross-section of young people. More than two thirds (69%) of the survey respondents identified as LGBTI+, 29% did not, and one in 10 was unsure. Nearly all (93%) of the young people who attended the consultation events identified as LGBTI+. While the young people represented nearly every county in Ireland, most spent much of their time in urban areas.
This document's ultimate purpose is to inform the final strategy in a crucial way, yet it also stands alone as a snapshot of LGBTI+ young people in Irish society in the aftermath of monumental change, and fizzing with the energy and desire for more change to come.