HOW'S YOUR HEAD?Report of a national consultation with young people on mental health and wellbeing
Published on October 2020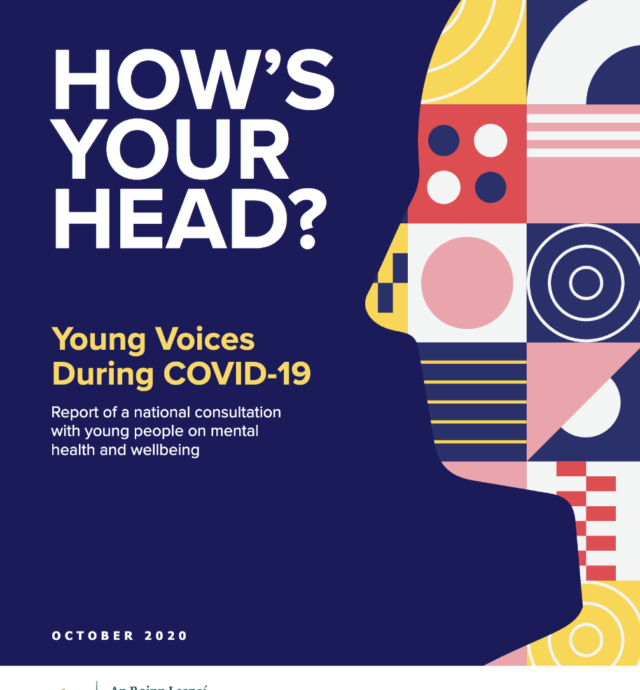 Author: OCO Youth Advisory Panel
Publisher: The Ombudsman for Children's Office
Date: 2022
Geographic Coverage: Ireland
Type of Resource: Report
Sector/setting: Government
Vulnerable groups: Children, Young People
Developed with children and young people? Yes
Type of participation: Consultations With Children
Availability: Open Access
Keywords: Child, Participation, UNCRC, Voice, Young People
In the summer of 2020, the Department of Children and Youth Affairs, working with the Department of Health and the youth sector, collaborated with SpunOut.ie to undertake an online survey of young people's experiences of COVID-19. A Youth Advisory Group worked with the Department of Children and Youth Affairs to guide the development and analysis of the consultation.
The consultation sought to better understand how young people are experiencing COVID-19. The consultation asked them about what has been working well for them and the challenges in maintaining their wellbeing. The consultation gave young people a chance to provide feedback on what could be useful to them in improving their mental health and wellbeing over the coming months. They were asked four open-ended questions to ascertain how they felt about specific aspects of their lives at this time.
The responses of a highly varied group of 2,173 young people aged 15-24 were received and analysed. The main body of the report provides a detailed presentation of the findings as well as relevant information on the demographics of the young people who responded. It also contains an overview of the methodology used to consult with young people and analyse their responses. The Youth Advisory Group provided their input on ways decision makers can respond to the findings of the consultation in the Ideas for action section.